This will merely be an inspiring cavalcade of the organic, vegan food I've been cooking lately as a food ambassador for the
Årstiderna
vegan food box on Instagram (@veganskamatkassen). The recipes can be found on
their website
and in the appstore app (in Swedish). But if you find some dish/es especially interesting I'll happy to translate the recipe/s in a separate post. Just leave a comment about your favourite looking recipe.
This has so far been my absolute favourite dish. A very unassuming looking
beetroot quinoa
(served with salad, cabbage and carrots in a wrap), that's absolutely jampacked with texture and flavour (who new quinoa, raw beetroot, apple, raisins and a simple dressing of lemon juice, garlic, oil, salt and pepper could create such magic?).
Spicy
bean tacos with avocado and grapefruit salsa
.
Okonomiyaki with a spicy rice salad
-
such a nice new food experience!
Bangkok soup with rice and coriander
-
not a favourite flavour/texture experience. Love coriander, but the rest was just very basic.
Potato and leek soup with fried leek and pumpkin seed topping
-
the soup was really good (if not exciting) but that topping was fantastic!
Tartlets with creamy stew of asparagus, broccoli, carrot, leek and mung beans
-
just as tasty as beautiful. Just look at that gorgeous salad... Nature is amazing.
Saag aloo with chickpeas and spicy cucumber salad
-
let's talk about that pickled cucumber salad. I was very sceptical. Apart from pickled red onion I'm no fan of pickled veggies. Or so I thought. This was delicious and such a nice contrast to the spicy, hot saag aloo.
Spicy
noodle wok
.
Hokkaido pumpkin soup with turmeric and roasted corn and pumpkin seeds
-
absolutely delicious! That roasted fresh corn and pumpkin seed topping, fantastic.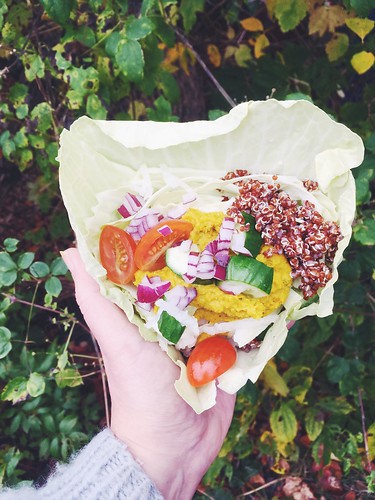 Cabbage wraps with quinoa and pumpkin and pea hummus with turmeric
-
that hummus... oh my, tastiness! (Snoopervisors agree.)
Chickpea pancake with leek, squash and cherry tomatoes
-
I find chickpea flour to be rather dry and so was this pancake, but I'm basically just happy that I managed to fry and turn it reasonably unharmed.
Bibimbap with pak choy, mushroom, leek and carrots
-
very good. And that pak choy before cooking, gorgeous.
Seitan sausage in a bun with pickled red onion and Asian cabbage salad
-
I was surprised at finding a semi-finished product in the box (but granted I wasn't excited by the idea of making my own seitan sausage). Not very exciting as a meal. But I enjoyed the pickled red onions.
Wraps with quinoa, red cabbage, carrots, cucumber and peanut sauce
.
Korma curry with chickpeas, sweet potato, cauliflower and tomatoes
.
Latkes pancakes with hummus and tomato-onion salad
-
really good flavour combo.
The recipes are for two persons but in general I have no idea how hungry you have to be to finish all that food, so I can usually freeze the leftover food or enjoy it several days in a row. Very practical. I'm just so happy I got this chance -
Instagram hashtaggery has certainly been very very good to me
over these past few years.
I never enter any competition where it's just pure luck or a lottery (I'm never lucky in lottery anyway). To win by competence or talent is just so much more rewarding as far as I'm concerned. And even if this very honourable food ambassador assignment was something you applied for I consider it an Instagram victory - like
the glasses
,
the dress
,
the Schwarzwald trip
,
the muesli
, the wee sonny angel. Big, small and everything in between. The combination of image and words, my special winning combo apparently. And how lucky I am to be able to work with what I love. And eat and live the way I want, in a way that's beneficial for both myself and the planet. Lucky lucky lucky me.
NB the empty Årstiderna wooden crates are awesome for little excited snoopervisors too. Such a win win win situation.